Brothers-In-Arms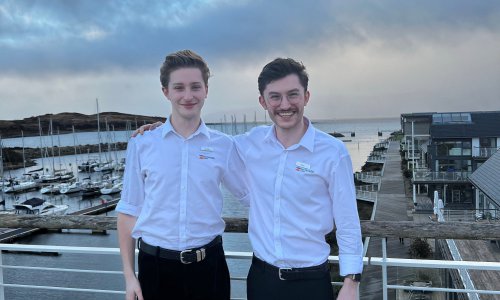 For this instalment of Portavadie life we touched base with two of our new crew members, Jamie and Alex, to discuss how they're settling in and what they've enjoyed so far whilst working here.
I'll start with yourself Jamie what made you want to come to Portavadie?
Jamie: It was the change of scenery and the opportunity to re-connect with nature. I'd been living in Edinburgh and it felt right to get out of the city and explore more of what Argyll has to offer. I'm from Argyll & Bute, Helensburgh originally, so it's great to see more of the Secret Coast. I'd also noticed Portavadie runs a 'Refer a Friend' scheme and if the applicant is successful then you can win £300 so I jumped at the offer to refer my brother Alex.
Alex, how's it been working alongside your brother?
Alex: It's been good thanks, nice to see a familiar face around work and we socialise after our shifts but I'm still getting used to people referring to me as Jamie's brother!
Jamie: About time after all those years of being called 'Alex's wee brother'! It is great having him up here he's settled in well and it's good to catch up after work.
As you both come from Helensburgh what was the draw of Portavadie? It's not a million miles away from Helensburgh only an hour and a half away and around two hours from Glasgow, was that one of the factors?
Jamie: Yeah it's far enough to be completely new and have a new start but close enough to local amenities and to get a few wee trips away to local towns and villages.
Alex: Exactly, it's far enough to be something new and there's a lot on offer with the beautiful scenery and outdoor activities but there's that opportunity to see friends and family on my days off back home.
What are you most excited for whilst working here?
Jamie: I'm excited to see how I progress at Portavadie and there's a lot on offer career wise with the ability for further training. The most exciting thing is the ability to see more local tourist sites and hidden gems, I've heard great things about Ostel Bay. I'm looking forward to seeing that in Spring.
Alex: The use of the leisure facilities and getting involved in local events. I've never seen a shinty match so that would be interesting. I've recently resumed running and trying to work on that so I'm tempted to sign up for the local 10 mile run in September but that's a work in progress!
What are you most nervous about whilst working here?
Alex: I was nervous about moving to an unfamiliar environment and working alongside new people. However, everyone's been extremely welcoming and my accommodation is great, it's starting to feel like home.
Jamie: It was the nerves about not fitting in with the crew but there's been plenty to do and see with so many friendly members. I've met some lovely people who have been so accommodating.
What do you enjoy most about working here?
Jamie: The free pool! On my split shifts I normally head to the pool at the spa and leisure facilities. Also, the team have been great at welcoming me and they're all sociable which is nice. It's easy to make plans after work and head to local coffee shops on days off. Oh and the other day we visited the Tighnabruaich Gallery which has some incredible paintings and sculptures to view I didn't expect a Gallery to be on Portavadie's doorstep.
Alex: I love that it's a change and something new with plenty to offer. It helps the work-life balance is great as well with plenty of time on our hands after shifts. Also, the crew have been great just full of fantastic people, apart from Jamie of course (laughs).
Most importantly, have you two decided how you're going to spend the £300 money when you receive it?
Jamie: Hopefully we'll go for a few nice meals at the Marina Restaurant or invite mum and dad to Portavadie and they can get a couple night's stay here then we can explore what's on offer together as a family.
Alex: I was thinking about a three course meal at the Marina Restaurant, get a few cocktails and live the high life!
Thanks for sitting down with me today gents and enjoy the money when you receive it!
If you would like to know more about careers available at Portavadie or you're looking to grow in your role, please be sure to visit our career listings here: Team Portavadie at Portavadie, Loch Fyne, Scotland
Or you can get in touch via careers@portavadie.com we look forward to hearing from you soon!