Rainy Days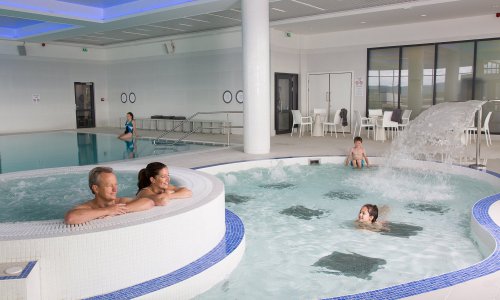 The best thing to do on a rainy day is get your wellies and waterproofs on and head out for a walk. The stroll through Glenan Wood is wonderfully atmospheric on a wet day with water dripping from the branches, ferns and moss. Kids will love squelching through the muddy bits! Another good walk locally is up on the headland to Stillaig. It has everything – great views, a beach and even a standing stone. The Glenan and Stillaig walks are both right on our doorstep, so you don't have to get in your car and you can pile back for hot chocolate in The Lodge Kitchen & Bar when the rain gets too much. Muddy boots are welcome here!
If you'd like to escape the rain (but still enjoy some water-based fun), then head to our Spa & Leisure Experience. With an outdoor infinity pool, an indoor pool, splash pool, spa pools and sauna, it's a fabulous place to spend time with family and friends. Or why not treat yourself to a treatment from one of our therapists? The Spa & Leisure Café is a lovely place to hang out on a wet day. Enjoy a coffee, tuck into a pizza or treat yourself to an ice cream.
If you're looking for a rainy-day day trip from Portavadie, my top recommendation would be Bute. It's a fantastic island, with shops, cafés and galleries galore. It's also home to Mount Stuart, one of my favourite places to visit. Take a tour of the spectacular big house, the ancestral home of the Marquess of Bute. The detail and craftsmanship are just incredible. And if you get a break in the rain, there are 300 acres of beautiful grounds and gardens to discover, as well as an excellent adventure playground for the kids. Another good rainy day option for a day trip is Inveraray to visit Inveraray Jail and Inveraray Castle. Inveraray also has a good selection of quirky shops and places to eat and drink. And finally, why not hop on the ferry to Tarbert? Browse the shops and galleries. And if the weather clears (which it often does on the west coast!), visit the ruined Tarbert Castle.
You could also head into Dunoon. Go for a wet walk in Puck's Glen, a magical woodland world with a glorious gorge. The tumbling waterfalls are even more dramatic when it's raining. Or you could head to Hunter's Quay Holiday Village, where there's an indoor pool and soft play.
And if you're looking for things to keep the kids entertained inside, pop into our shop, You'll find plenty of books, games and puzzles for all ages.