Tilly and Diana's Portavadie Experience (so far!)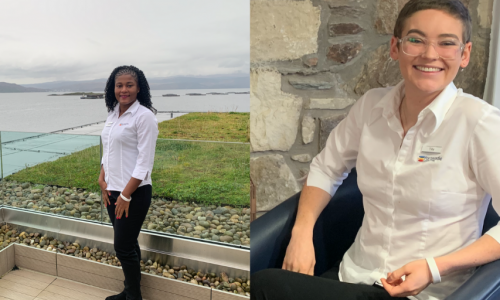 We caught up with two of our new superstars this week, Tilly and Diana, here's what they had to say about their time at Portavadie so far.
Tell us a bit about yourself and your role...
Tilly: I am the new Restaurant Manager at Portavadie. I have been working in the Hospitality industry since graduating from university in Creative Writing - here I specialised in creative non-fiction drawing from the environment and using nature to shape my narratives. Enjoyment in these small and universal pleasures have served me well delivering great experiences, seeking to perfect the individual 'habitat' of each guest who comes into our 'house'.
Diana: I'm from the beautiful islands of St. Lucia and St. Maarten in the Caribbean. I have been working in the hospitality industry for the past 18 years. My passion for this industry stems from my personality. I love to help people and being able to make others smile is very rewarding for me. I love the outdoors and exploring what nature has to offer. My experiences and personality made me a perfect fit for this role. I see my main role as to deliver an exceptional level of service to ensure that every guest I interact with leaves with a memorable experience.
How did you hear about Portavadie?
Tilly: Through an agent, Dee Cooper, who specialises in live-in career opportunities!
Diana: I also found out about Portavadie through Dee Cooper Jobs.
What made you want to join Portavadie?
Tilly: Google images paints a beautiful picture, of Argyll's Secret Coast. I wanted to continue working in hospitality somewhere outside of the city, I missed open plain bird watching living in Manchester, and dragonflies when working in the dry county Sussex. Also engaging changes in my personal life made me want to try a more rural, dare I say simple, lifestyle. Between Portavadie, and other offers I had in the Lakes and down South, thoughts of being in an infinity pool overlooking the Scottish west coast whilst gannets performed acrobatics overhead sealed the deal.
Diana: I wanted to join Portavadie after my first interview. I was immediately drawn to the friendliness and warmth of my interviewers. I was also quite impressed that they would consider employing someone all the way in the Caribbean. For me this showed fairness and equal opportunities and I believed this would be a great place to work.
What is the best thing about working here?
Tilly: The guests and the atmosphere. It is bright, crisp, and open, even when covered in cloud, and even from the inside of the restaurant windows. Have you seen the view?
Diana: The best thing about here is the collaborative environment. I have genuine and supportive colleagues which help create a positive work space and keep me motivated. Everyone is friendly and it makes it easier being so far away from home.
How do you find living in Argyll?
Tilly: An adjustment, but nothing we can't handle. The best and worst thing is NO DELIVEROO or food delivery service in general. The wildlife is like no other - I see sea mammals daily, and the skies are so abundant.
Diana: I love the simplicity, tranquility and breathtaking scenery of the area. I have not done much exploring but I look forward to enjoying what the place has to offer. Definitely my kind of vibe!
What do you want to achieve in your time here?
Tilly: I want to learn new things, meet new people and be inspired by the environment!
Diana: I look forward to achieving both personal and professional development. I am hoping to contribute towards the goals of Portavadie by consistently delivering an exceptional level of customer service.