Accelerated Leadership Program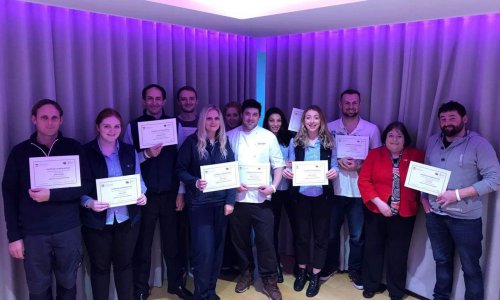 The accelerated leadership course commenced on Friday 30th March 2018.
Portavadie Management Team poured into the Revie Suite eager to start their first module - the finance module. Well, poured may be an exaggeration, as Finance was probably many of the Team's least favourite module. HOWEVER, I really enjoy finance and it's an area where I really have to use my brain, so it got a thumbs up in my book!
We had a guest speaker, Kevin Warren, whom enhanced our knowledge of accountancy with his expertise in the subject.
Be a role model. Inspire. Be an enabler and achieve. These are positive leadership behaviours that the cohort learned in our Leadership module! This module was extremely imperative to our learning journey, it communicated what was at the core of the program – developing our leadership skills. Many individuals may have natural leadership skills, to enhance those skills it is important to reinforce what is a leader, what makes a good leader and what impacts leaders should be making on their team.
Something that was also involved in the leadership aspect of the program was, high potential trait indicators (HPTI). HPTI measures six key traits which affect work performance. It also indicates the sorts of approach someone may use if they achieve senior leadership position, and suggests where that style might be most effective. This was an interesting aspect as it assists in understanding your leadership traits on a deeper level to maximise potential.
SELL, SELL, SELL! There was also a sales and marketing module held by our business partner Mhairi Duncan.
All the modules helped prepare the group for the final project and each was interesting and beneficial to our personal development as managers.
Did I mention we get sandwiches and PIZZA for lunch on the course?? Just when you thought it couldn't get much better #staffbenefits
Now it's time for the… Team and task allocation!
Check out the next blog post to see the group's progression with their projects!!