Award Winning Portavadie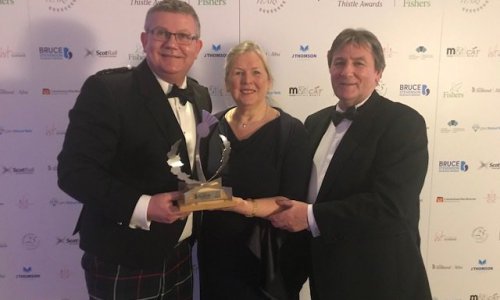 It's official, Portavadie, Loch Fyne is Scotland's Best Accommodation Provider. Our unique destination, on the west coast of Argyll, was among those named best in the business at Scotland's biggest tourism award nights, the Thistle Awards on Thursday 15 March 2018, in Edinburgh's International Conference Centre.
This was the 25th Thistle Awards ceremony, and to celebrate, ten past Silver Thistle winners joined the businesses, from across the country, nominated for awards in Scottish tourism's 'Oscars'.
Portavadie reached the final having scooped the Best Accommodation Provider category at the Highlands and Islands Tourism Awards held in Inverness on 3 November 2017. Despite Portavadie having picked up numerous national and international awards, this was the first we had reached the finals of the Thistle Awards.
Renowned for celebrating the highest levels of quality and excellence, a Silver Thistle is the most coveted award in the tourism industry in Scotland.
Portavadie's Managing Director Iain Jurgensen, who picked up the award said: "It is a huge honour to receive a Silver Thistle and a further endorsement of the commitment and passion teh Crew put in to make Portavadie what it is today. Congratulations to all the nominees and winners on their achievements.
"I am delighted that the judges, all of whom are hospitality experts, consider we are the Best Accommodation Provider in Scotland and I'd like to thank them for their resounding endorsement. It certainly gives us renewed focus to maintaining the experiences the Crew at Portavadie have been recognised for delivering!
"This is very much a team effort and I am incredibly proud of the Crew at Portavadie who are dedicated to providing outstanding hospitality and first-class personal service." We look forward to sharing that experience with you!