Buoyed by Five Gold Anchor Award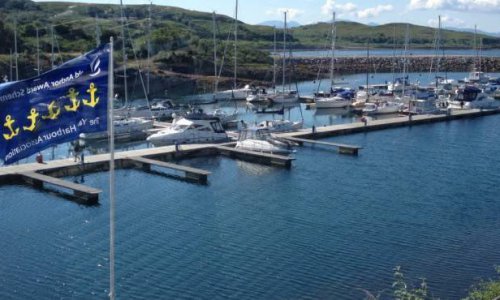 We've been awarded Five Gold Anchors by The Yacht Harbour Association, making us one of only two marinas in Scotland to join this elite group.
The Gold Anchor Scheme is the trusted measure of marina excellence. It awards between one and five gold anchors. Five Gold Anchors is the highest accolade and given to marinas with the very best facilities and service.
As you can imagine, we're all pretty chuffed with this prestigious award. Marina Business Development Manager Robert Kitchin, who's played a key role in developing the marina from the start, sums it up. 'It's just great news,' he says. 'It not only recognises the world-class facilities at Portavadie, but our team's commitment to first-class customer service as well. Everyone here works hard to give our berth-holders the very best experience and it's fantastic to see their efforts recognised in this way.'
The assessment process was a rigorous one and included a 'mystery shopper' visit and consultation with berth-holders. The final report makes great reading, highlighting, among other things, our impressive range of facilities (the under-floor heating in the bathrooms gets a special mention), our commitment to good environmental practice and our excellent health and safety procedures. It also noted how well constructed the marina is – pointing out that it had stood a working test in hurricane conditions!
Marina and Facilities Operations Manager Craig Cochran isn't surprised. 'Portavadie's one of the UK's most modern marinas,' he says. 'Right from the word go the decision was made to invest in quality. In a sense, it was designed and built to Five Gold Anchor standards.' But the award isn't just about facilities and buildings. It takes into account customer service and community spirit too, as Craig explains. 'The fact that we organise events for our berth-holders, such as musters, went down well in the assessment. It shows that we're focussed on people as well as boats and facilities.' The report also picked up on the high level of personal service, noting our team's daily 'walk around' the marina when they check for chafing, inspect lines and generally keep an eye on the boats.
Gareth Turnbull, TYHA Assessor, said: 'I had the opportunity to personally audit Portavadie Marina and can vouch for the superb facilities, stunning location and the team who were a pleasure to work with. Services include mountain bikes for loan, fine dining overlooking the marina, a well-stocked chandlery, unforgettable cruises in company (including a top-quality, seafood-inspired packed lunch) and hair straighteners in the men's and women's changing rooms. You get the picture!'
We hope that the news of our award will spread far and wide and inspire even more people to make the journey by water to see us – and we look forward to rewarding them with a Five Gold Anchor experience!