Club Fyne Left The Loch and Headed For The Glen!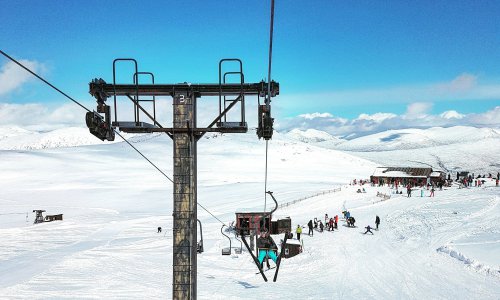 Skiing is a huge passion of mine, and I am forever encouraging people to at least try it! This is why during my first few months of my graduate placement I thought WHY NOT take the team to Glen Coe for a day out, and to try my favourite hobby. The thrill you get from skiing, and the overall appreciation for the stunning views is like you've just been taken up to heaven - on a chairlift of course.
I managed to convince the management team that it was a good idea, and that honestly no one will come back with a broken leg. The worry was that members of the team may go out on their Club Fyne adventure and come back with a broken leg. I, an advocate of skiing, assured them that they are just as likely to break their leg on the board walk, looking onto the marina on a day-to-day basis, than up in the mountains on their unfamiliar planks on their feet.
Equipment collected, check, talked Luci out of wearing jeans instead of salopettes, check, ensured equipment was on properly, check, and all on the chair lift securely, CHECK! But wait, we still need to get off the chair lift AHHH! And, yes, we had a pile up of Portavadie Team Members on the chair lift landing. But nothing says your first ski day like coming off your first chair lift, flat on your face and eating snow. Nonetheless, we are back on our feet and head towards the ski school meeting point. Jodie and I being the experienced skiers went off to explore the mountain. Now, you may think that sounds effortless? Easy? Bit of a breeze? Not in my world! I had Jodie off-pieste, down the black runs and into some very challenging skiing. But you know what? She made it out alive, so it was not just a challenging day for the beginners, but for us too!
And obviously the day was a what? A SUCCESS! The team loved everything from our scenic drive via Inveraray, down onto the single-track road which runs alongside the River Orchy – a very popular river with many interesting falls and pools. The Glen Orchy road really added the icicles to the tip of our ice berg, thank you to John for taking us! But what about the skiing you ask? Well that went tremendously well. No one, I mean no one hurt themselves. All enjoyed, all would go back, all felt refreshed and all taken back by the fun and the magnificent views.
#fyneadventure #clubfynegoskiing #fynefun #lochfynetoglencoe #portavadiepeople