International Women's Day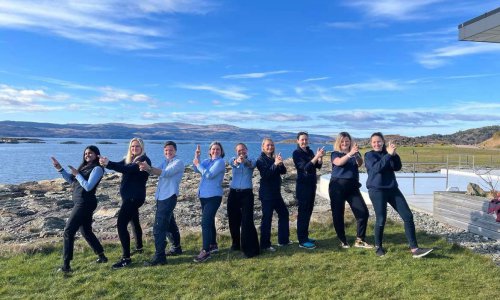 International Women's Day (March 8) is a global day celebrating the social, economic, cultural, and political achievements of women. We have a number of very influential women leading in our business.
Carol Jalgielko is our Director and one of the visionaries behind the development of the Portavadie so many enjoy today. Carol's contribution is without equal, from the vision in the first instance to the drive, literally daily from her home in Largs in the early development years, now at least once per week. Carol can be seen creating the latest retail displays within the shop, down on her knees weeding a flower bed or delivering fresh flowers to the restaurant. Carol's passion for Portavadie and its people continues to define the strategic direction of the business.
Avril Vernon is our Spa and Leisure Manager, she has been with us for 8 years (since we opened the multi award-winning Spa and Leisure Experience). Leading a team of 12, Avril delivers amazing experiences and memories to our guests and is a key member of our leadership team – she also recently undertook a charity swimming event and is a member of the Coast Guard.
Flori Trufasu is our Accounts Manager, she joined the business in 2011 as a Housekeeping crew member and now heads up our Accounts and Retail department. Flori has worked in every department, she is an expert in all things systems! She has recently attained UK Citizenship and became a mum in 2022.
Keerthiga Kugananthan is our People and Culture Manager, she joined the business in 2021 as a Graduate Hospitality Manager. Currently on a student Visa, Kiki studied HR at University and now heads up our People and Culture Department, which focusses on attracting and retaining the amazing people that deliver the guest experience. Kiki is currently working toward securing a Tier 2 Visa to continue in her role here at Portavadie, taking advantage of our recently approved Visa Sponsorship status.
Alison Mullholland is our Reception and Events Manager, she is now in her 2nd period with us. Alison has grown with the business, starting within the Housekeeping crew, growing to lead that department before heading off to run her own business. Alison returned in 2021 and now leads our Reception and Events crews. Living in Tighnabruaich, Alison has all the local knowledge and inside track on all the events and best places to visit.
Lorna Wilson is our Housekeeping Manager and another local superstar, she joined the Housekeeping crew in 2018, and now heads up a crew of 8 plus working with our external cleaning contractor Out Of Your Hands (headed up by another great women, Marie McCuaig). Lorna's attention to detail is legendary, keeping our guest accommodation looking immaculate.
These are just a few of the women that make Portavadie, along with many others, both male and female. Ladies we salute you!