Kids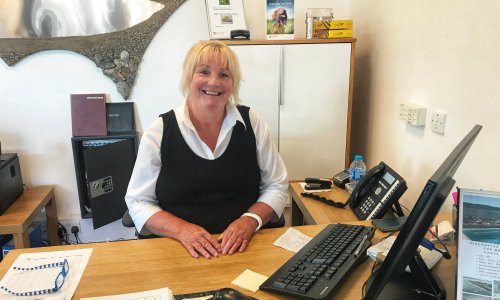 This area is one big natural playground for kids! I used to love coming here on holiday as a child and now my grandchildren love it to. And the things they enjoy are the same things that I enjoyed as a kid: the simple pleasures of rock pooling, beach combing and fishing from the piers; the chance to make dens, get messy and generally run wild! My top recommendation would be to get the kids outside as much as possible. You can't always trust the weather on the west coast, so bring your waterproofs.
There are some great beaches to explore nearby. Kids will love the adventure of a walk through Glenan Wood to Glenan Bay. The woodland itself a magical place, full of gnarled mossy oaks, caves and lichens. You could also pack a picnic and walk over the headland to Stillaig where a narrow isthmus separates two shallow bays, which are both great places to paddle. The walks to Glenan and Stillaig are direct from Portavadie, so you don't need to use a car. Ostel Bay is the best beach on Argyll's Secret Coast. Park your car in the big lay-by at the side of the road and from here it's a fifteen-minute walk to the beach. This is a good walk for kids as it's not too far and is fine for off-road buggies. On a sunny day it's a fabulous place to spend the day paddling, sun-bathing and swimming.
Another good place for kids to explore is Kilfinan Community Forest, where there are woodland walks, dens and forest art to discover. During the summer, the village pontoon in Tighnabruaich is a popular spot for crabbing and fishing.
Our Spa & Leisure Experience is the perfect place for poolside fun with the kids. There's a toddlers' splash pool, as well as indoor and outdoor pools. Ideal for a rainy day! After swimming with the kids, head to the Leisure Café for pizza and ice cream and then walk along the boardwalk to the playpark. Another rainy day option could be Hunter's Quay Holiday Village in Dunoon, where there's an indoor pool and soft play area.
If you'd like to explore further afield with the kids, then head over to Tarbert where there's a castle and some excellent play parks. Inveraray is a good destination if your kids enjoy history. There's Inveraray Castle, Inveraray Jail and Auchindrain Highland Township. The island of Bute is also a good destination for kids. Visit Rothesay Castle, Mount Stuart, which has a brilliant adventure playground and Ettrick Bay.
The area is packed with kid-friendly places to eat and drink. Portavadie's cafés and restaurants are all child friendly, while the local hotels and cafés all welcome kids. The Kames Hotel is a great spot for dinner with youngsters. Or try the Oystercatcher at Otter Ferry. This pub and restaurant sits right on the beach looking out over Loch Fyne. It's a great place to bring kids and dogs, as there's plenty or space for them to run around as you enjoy a drink. If you're looking for an ice cream for a treat, there are plenty of options. Try our freshly churned ice cream in the Leisure Café or head to Premiere Store in Tighnabruiach, Raj has a great selection of ice creams. The Tea Room in Tighnabruiach is also a great stopping place.
And if you're looking for things to keep the kids entertained inside, pop into our shop, You'll find plenty of books, games and puzzles for all ages.