Meet our New Culinary Team Members!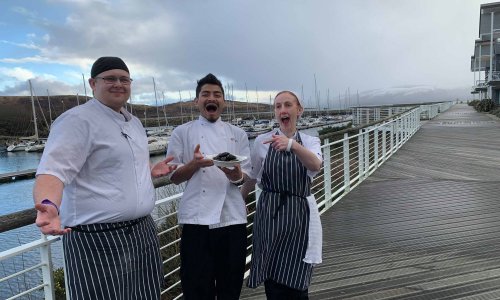 A warm welcome to our new members joining the Portavadie kitchen team! We met; Gail, Harry and Ash to discuss how they are adjusting to their Portavadie Experience. We asked them where they have relocated from and then some questions regarding the workplace, have a look...
Gail, Commis Chef
Relocated: I've come from Rothesay on the Isle of Bute, there is a bus and ferry service which is weather dependent so far I have been able to make it over.
Gail's experience: The fantastic thing about this career change is because all I have to do is work and sleep and I don't need to run a house. I never realised it was my dream until it happened.
I am a fluent Gaelic speaker, and this is a true gaidhealtechd here, this means the heartland, the heartland of Scotland. It's true it has all the wildness and beauty.
Favourite aspect of work: There has been so much… one of the most valuable is that you can make foods taste wonderful by purely using fresh, high quality ingredients, which taste brilliant by just cooking them right.
Work station: Larder.
Harry, Commis Chef
Relocated: I am from Campbelltown and it's a nice easy bus journey and ferry ride, which isn't too far. I stay in on-site staff accommodation during my working week though.
Harry's experience: The team are so welcoming, everyone wants you to do things with them – it's great!
I think the area is unique, as it's only a stone throw away from Glasgow, it's almost like an island, but it's on the mainland, you wouldn't expect it to be on your door step. I also love that there is roe deer, which I can see run by my staff accommodation window, it's incredible, I love watching them.
Work station: I am currently enjoying my experience on the "Veggie bit" - "no technical terms with me".
Favourite aspect of work: I would say the newest experience for me is working on the line, I've never worked in a team dynamic like this, where you are all required to contribute to one dish.
Ash, Chef de Partie
Relocated: I originally came from Nepal, recently been in reading for 9 years.
Ash's experience: I am loving it, the first thing is I am cooking, and that's what I love doing. I also have so much nature around me, the cycling, hiking on your days off is amazing, looking at the wild life, seeing things grow, you can just get lost. I was born in this kind of environment and I am cooking, couldn't ask for better.
The way I see it, it's like a treasure land, it's pretty much hidden, and most people don't know this place.
Work station: Sauces
Favourite aspect of work: Fresh fish, especially considering it is literally from Tarbert (acorss the water) and the mussles are so tasty!
#team #portavadiecareers #culinarycareers #freshproduce #wildaboutargyll