South of Spain to West Coast Scotland - Cristina and Gloria's Experience!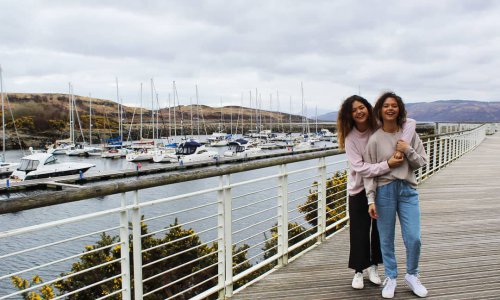 This week we asked our two new team members from the Food and Beverage team to tell us about their experience so far at Portavadie. I would like to introduce Cristina and Gloria, twin sisters from Murcia, Spain. They were living in Glasgow and then moved to the West Coast of Scotland to experience rural Scotland.
Here' what Cristina and Gloria have to say:
What we like most about Portavadie is that since the beginning our colleagues were so friendly towards us and made us feel at home. Because of this, it's easier to live and work at the same place. The environment here is wonderful, you never feel alone and there's always someone around to help if you need it. Our typical day here involves working, going to the gym, having a coffee and studying English and we also often meet with our colleagues for a drink. On our days off we visit the surrounding areas, the whole of Scotland is very beautiful, especially the sunsets and the colours of the sky! However, we used to live in a big city, because of that whenever we can, we try to go to Glasgow. Portavadie is far away from civilization, so sometimes you need to get out and visit other places. Our customers are really polite and friendly, we've never had any problems with them. Portavadie has something for everyone, if you feel like a great pizza you can go to the café, the cocktails are really good in the marina, and if you want a good burger you can enjoy it in the lodge. Here you're always learning something new, and every day is different. We are very happy for Portavadie to have been a part of our adventure through Scotland and we are very proud for be in the food and beverage team.
Thank you Cristina and Gloria for your lovely anecdote into your Portavadie experience!