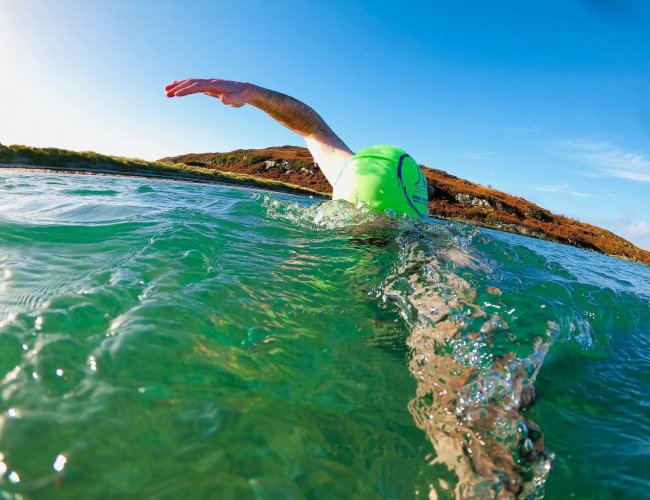 Open Water Swimming
Dan Coyle operates as an open water swim coach and wild swimming guide in our beautiful area.
Based in the Heart of Argyll in, he works across this stunning and uniquely varied landscape at identified swimming locations from the sea loch of Melfort, east to the fresh water expanse of Loch Awe and across the great arm of the sea that is Loch Fyne, west to enchanting Knapdale and the sheltered sea loch bays of Loch Sween and further south along the idyllic waters of the Kintyre coast.
Swim locations close to Portavadie include Otter Ferry and Carry Farm.
He is also available for seasonal and bespoke guided wild swimming adventures on the nearby majestic Hebridean islands of Jura, Islay and Gigha.
Dan is qualified in the Royal Lifesaving Society National Water Safety Management Programme. This means he is qualified to manage group safety and perform in-water rescue within a variety of open water environments, from the sea to inland lochs and rivers.
Open water swim coaching lessons are available for beginners, intermediate/improvers and advanced swimmers, adults and children. With a background as a PE teacher, SSTQ swim teacher and an STA Level 2 Open Water Swimming Coaching qualification, his approach is holistic and developmental.
Bespoke guided wild swimming adventures are available for individuals and small groups of 2-5 people. Equally, if you're a non-swimmer (aspiring or current 'dipper') or are looking to explore the benefits of cold water therapy under qualified open water safety cover, he'd also love to hear from you. Immerse your senses.
For more information on the sessions available and how to book, please visit www.swimdanthemerman.com
Argyll. Into the wild, into the water!